Welcome to Our Service Department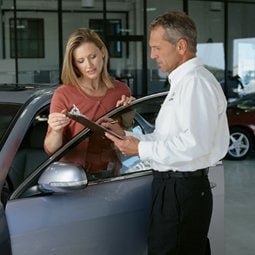 Keep Your Ford Running Smoothly With a Service Visit to Woolwine Ford Lincoln Inc. in Collins, MS
New Ford models are famously "built Ford tough", but even they need maintenance from time to time in Hattiesburg. Following the advice in your owner's manual is a good start. With regular oil changes and tire rotations, engine inspections, brake maintenance, and seasonal care, you'll eliminate most of the things that can cause unexpected breakdowns or performance issues long before they become a problem.
Services You Can Count on Near Magee
A trained eye can catch indications of trouble, so have your engine regularly inspected by a certified technician. Worn hoses, fraying belts, and loosening gaskets can stop you in your tracks when they fail. If you're planning a road trip in Petal or heading into the winter driving season, an inspection can give you peace of mind that your engine components are up to the task.
Your tires need relatively little maintenance in relation to how important their contribution is to vehicle performance. The occasional pressure check and routine rotations will allow you to get the most out of your tires by increasing their longevity.
Your oil has a similar position of importance in keeping your engine performing efficiently. Regular oil changes reduce engine temperatures, improve efficiency, keep the engine components clean, and extend your engine's lifespan. Oil changes are relatively inexpensive concerning how much good they can accomplish.
We'll care for your vehicle from the tires to the windshield wipers and everything in between.
Parts directly from the manufacturer ensure a repair that will bring your vehicle as close to the condition it was when first driven off the lot, so we try to source these whenever possible.
Our technicians have the skill and experience to diagnose and solve your vehicle issues quickly. Don't hesitate to contact us with a question if you notice a drop in performance. We're here to help you in Sumrall.