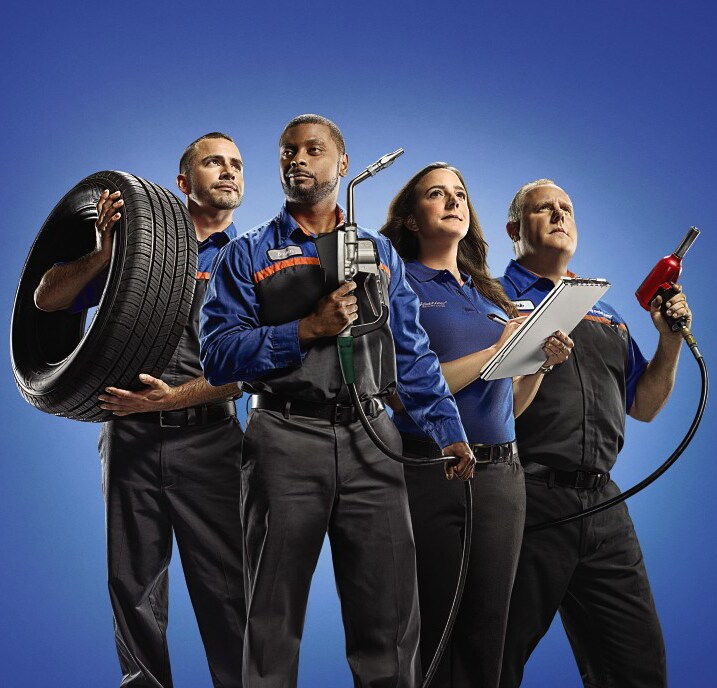 READY TO SERVE™
When you're ready for essential maintenance and you want it done right and on your schedule, the experts at Quick Lane® are ready for you. No appointment is necessary and you'll get service while you wait, even evenings and weekends. We take expert care of any make or model. And we use quality parts from Motorcraft.® From brake repair to batteries, alignments to air conditioning repair, Quick Lane is Ready To Serve.™
Three Choices: No Appointment Needed
---
Regular oil changes are essential to keep your engine clean and properly lubricated, allowing your vehicle to run more efficiently. At your Quick Lane® Tire & Auto Center, we're Ready To Serve™ with three great oil change choices that help you get the maximum value. Each offers high-quality oil and filter products from Motorcraft® that can help improve your gas mileage and extend the life of your vehicle.
Tire Buying Tips and Tire Maintenance
---
Looking for the best price on a new set of name-brand tires? A quick tire rotation or tire inspection with no appointment? Quick Lane® is Ready To Serve™. Our factory-trained experts are committed to making sure your tires are safe and ready for the road. And we have seven name-brand tires for you to choose from, including Michelin, Goodyear, Continental Tire and more.
Help prevent uneven tire wear with a wheel alignment
---
Today's bumpy roads and overgrown potholes can throw off the alignment of your vehicle, causing it to pull to the left or right rather than traveling in a straight line. This can lead to uneven tire wear and reduce your gas mileage. The solution? Stop by your local Quick Lane® for a road test and professional wheel alignment. Our factory-trained experts are Ready To Serve™ - helping to restore proper alignment, improve handling and make your vehicle run more efficiently.
Vehicle checkup report
---
Our factory-trained experts at your local Quick Lane® will thoroughly inspect your vehicle's key components and systems from top to bottom. Next, they'll provide an in-depth vehicle checkup report that will help you monitor your vehicle's maintenance needs. And remember, no appointment is necessary. Even weeknights and weekends.
Here's what's included:
Tire inspection
Brake inspection
Coolant check
Oil level check
Belts and hoses inspection